Construction Management Services, Civil, and Drain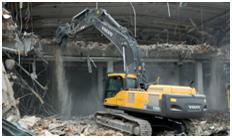 tpmgroup provides a variety of Construction Management Services in both emergency and scheduled situations.
Demolition and Dismantlement applications may include:
Disassembly and Removal of Process Equipment, Tanks and Piping - using techniques such as cold and hot plasma, arc cutting, mechanical disassembly and/or rigging.
Selective Reinforced Concrete, Structural Steel, Wall and Flooring Removal - Including demolishing and removing slabs, walls, columns, steel and heavy timber beams.
Demolition of Contaminated Building Components - implementing efficient methodologies to reduce site emissions during activities and cost-effective disposal technologies that are compliant with all applicable regulations.
Demolition of Compromised Structures in Emergency Situations - immediately notify and apply to regulatory agencies for demolition permits, consult engineering disciplines, implement a site health and safety plan, and mobilize the necessary equipment and manpower.
Other Construction Management Services include:
Building Construction and Remodeling
Civil Grading and Sitework
Drain Installation
Erosion and Sediment Control